Summary
Current Position: US Representative for NY 2nd District since 2021
Affiliation: Republican
Former Position(s): State Delegate from 2013 – 2020
Featured Quote: 
The SALT Cap unfairly penalizes Long Islanders and I'm committed to fully restoring it. That's why I'm a proud Co-Chair and Founder of the bipartisan #SALTCaucus. We need the SALT deduction restored now – Long Island families deserve better.
Featured Video: 
JCRC-NY Congressional Conversations with Andrew Garbarino
News
U.S. Congressman Andrew Garbarino from Long Island said President Biden bungled the evacuation of troops and allies from Afghanistan, but it's too soon to talk impeachment.
President Biden wants all U.S. military service members and their Afghan allies evacuated by August 31. A terror attack there last week killed almost 200 people, including 13 Americans.
Several Republican congress members have called for Biden to step down over his handling of the withdrawal, but Garbarino is not one of them.
"My major focus now — before we start talking about who needs to resign, who needs to be impeached or whatever — we need to get everyone out because it doesn't help us to be fighting political battles at home until everyone's out of Afghanistan safely," Garbarino said.
Twitter
About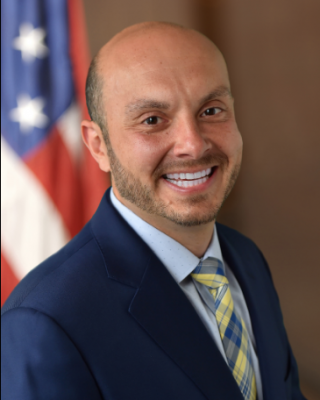 Source: Government page
A lifelong Long Islander, Andrew has dedicated his life to family and community.
The proud son of a lawyer and small business owner, Andrew went to Sayville High School where he participated in student government and worked at the local hardware store. As a man of faith, Andrew received his communion and confirmation at St. Lawrence Catholic Church, where he still attends Mass every Sunday. After high school graduation, Andrew went on to receive his BA in history and classical humanities from The George Washington University. Andrew then returned to Long Island where he received his Juris Doctorate from Hofstra University.
Upon his graduation from law school, Andrew joined his father at their family law firm in downtown Sayville.
Andrew's love and appreciation for his family-oriented community in Long Island inspired him to run for a seat in the New York Assembly, where he served the 7th district for four terms. During his tenure in the Assembly, Andrew fought to increase state funding for Long Island school districts, protect our island's environment including the Great South Bay, oppose tax hikes, and support our local heroes in law enforcement.
A proud member of the Sayville Rotary Club and Knights of Columbus, Andrew has been a leader in his Long Island community following the Rotary Club's motto, "Service Above Self."
Andrew now represents New York's Second Congressional Districts and fights every day for the hardworking people of Long Island.
Voting Record
Caucuses
SALT Caucus – Co-Chair
Conservative Climate Caucus
Problem Solvers Caucus
Arthritis Caucus
Autism Caucus
Civil Air Patrol Congressional Squadron
Congressional Horse Caucus
Italian American Congressional Delegation
Multiple Sclerosis Caucus
Suburban Caucus
Tourette Syndrome Caucus
Offices
Washington DC Office
1516 Longworth House Office Building
Washington, DC  20515Phone: (202) 225-7896
Fax: (202) 226-2279
Massapequa Park District Office
1003 Park Boulevard
Massapequa Park, NY  11762Phone: (516) 541-4225
Fax: (516) 541-6602
Contact
Email:
Web
Government Page, Campaign Site, Twitter, Facebook, Wikipedia
Politics
Source: none
Campaign Finance
Voting Record
VoteSmart – National Key Votes & Ratings
Search
Wikipedia Entry
ERROR: This url does not meet the site security guidelines.
Issues
Committees
Congressman Garbarino sits on these committees for the 117th Congress:
House Committee on Homeland Security
Cybersecurity, Infrastructure Protection, and Innovation – Ranking Member
Emergency Preparedness, Response, and Recovery
House Committee on Small Business
Economic Growth, Tax, and Capital Access
Innovation, Entrepreneurship, and Workforce Development
Legislation
Sponsored and Cosponsored
Issues