Summary
Current Position: US Representative for NY District 19 since 2019
Affiliation: Democrat
Candidate: 2022 US Senator for DISTRICT 19
Former Position(s): US Senator
Other Positions:  
Chair, Subcommittee on Commodity Exchanges, Energy and Credit – Agriculture
Featured Quote: 
While federal relief programs have helped many, too often, our smaller family-run farm operations are shut out from direct support. I joined @RepJahanaHayes to reintroduce legislation to create a new USDA loan program to better serve farmers during economic crises.
Featured Video: 
Rep. Delgado on Morning Joe
Source: Campaign page
News
RHINEBECK, NY – U.S. Representative Antonio Delgado (NY-19) urged the Secretary of the U.S. Department of Veterans Affairs to quickly develop and implement a comprehensive plan to contact post-9/11 veterans and provide information and local resources. The bipartisan letter encourages contact through means including digital correspondence, social media, phone calls, and text messages.
Rep. Delgado recently held a forum for NY-19 veterans, where he was joined by local veterans, public officials who have served, veteran liaisons, and members of the New York State Senate and Assembly Veterans Committees. The Congressman also recently introduced the bipartisan and bicameral REACH for Veterans Act, which would make meaningful improvements to the Veterans Crisis Line.
"It is our duty to check in with veterans — not the other way around. I am calling on the Secretary to develop and implement an outreach plan that reaches all our veterans," said Rep. Delgado. "Last week, I heard directly from upstate veterans who are struggling during this challenging time. They stressed the need for mental health services and accessible resources. We must deliver for the men and women who sacrificed to protect us."
Twitter
About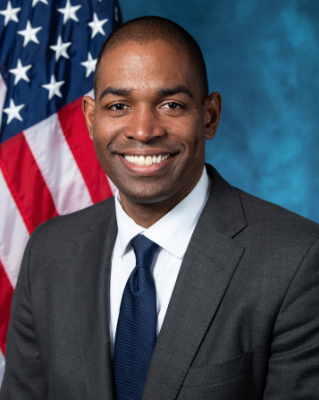 Source: Government page
Rep. Delgado is from Schenectady and lives in Rhinebeck with his wife, Lacey, and their twin sons, Maxwell and Coltrane. Rep. Delgado's parents worked for General Electric in Schenectady, demonstrating the values of hard work and commitment to community. It is that hard-working spirit that Rep. Delgado has continued throughout his life: he earned a Rhodes Scholarship while he attended Colgate University in Hamilton, New York, and went on to attend Harvard Law School. Rep. Delgado's professional experiences include a career in the music industry focused on empowering young people through Hip Hop culture, as well as working as an attorney in the complex commercial space, where he also dedicated significant time to pro bono work in connection with criminal justice reform. It's because of these diverse professional and personal experiences that Rep. Delgado finds common ground across the aisle and delivers results for the people of New York's 19th Congressional District.
Rep. Delgado spends every day in Congress focused on creating a vibrant local economy, working with local, state, and federal partners — regardless of party — to get results for the people here. From improving access to quality, affordable health care to expanding rural broadband to protecting our agricultural interests, Rep. Delgado is dedicated to working across the aisle and standing up for what residents need. During the 116th Congress, Rep. Delgado received the Chamber of Commerce Spirit of Enterprise Award and the Jefferson-Hamilton Award for his bipartisan legislative work. Rep. Delgado takes seriously his responsibility to be a voice for his constituents across the district, and hold himself accountable to them –
Rep. Delgado held 50 town halls in his first term, including 33 town halls in 2019, three in each of the 11 counties in the 19th Congressional District. Rep. Delgado is also committed to ensuring transparency and accessibility: he created four bipartisan, locally-based advisory committees on the priorities important to NY-19 including Small Business, Agriculture, Health Care and Veterans and opened five district offices so that everyone can have their questions answered, issues addressed, and voices heard. Rep. Delgado is the Chairman of the House Agriculture Subcommittee on Commodity Exchanges, Energy, and Credit. The Congressman also serves on the House Small Business and Transportation and Infrastructure Committees.
Voting Record
Caucuses 
Affordable Prescription Drug Task Force
Appalachian National Scenic Trail Caucus
Bipartisan Heroin and Opioids Task Force
Bipartisan Task Force for Combating Anti-Semitism
Civil Air Patrol Congressional Squadron
Congressional ALS Caucus
Congressional Arts Caucus
Congressional Black Caucus, Agriculture & Food Security Domestic Policy Chair
Congressional Career and Technical Education Caucus
Congressional Caucus on Black – Jewish Relations
Congressional Cystic Fibrosis Caucus
Congressional Delaware River Watershed Caucus, Founder and Co-Chair
Congressional Diabetes Caucus
Congressional Independent Colleges Caucus
Congressional Labor Caucus
Congressional MS Caucus
Congressional Organic Caucus
Congressional Pre-K Caucus
Congressional Rural Caucus
Congressional Sportsmen's Caucus
Dairy Farmers Caucus
Democracy Reform Task Force
Expand Social Security Caucus
Gun Violence Prevention Task Force
Historic Preservation Caucus
Hoops For Youth Caucus
House Servicewomen and Women Veterans Congressional Caucus
House Small Brewers Caucus
LGBT Equality Caucus
Lyme Disease Caucus
PFAS Task Force
Rare Disease Congressional Caucus
Rural Broadband Caucus
Rural Broadband Task Force
Ski and Snowboard Caucus
Task Force on Alzheimer's Disease
Women's Veterans Task Force
Working Forests Caucus
Offices
1007 Longworth HOB
Washington, DC 20515
202-225-5614
256 Clinton Ave
Kingston, NY 12401
845-443-2930
Contact
Email:
Web
Government Page, Campaign Site, Twitter, Facebook, Wikipedia
Politics
Source: none
Campaign Finance
Open Secrets
Voting Record
VoteSmart – National Key Votes & Ratings
Search
Wikipedia Entry
Antonio Ramon Delgado (born January 28, 1977) is an American attorney and politician serving as the lieutenant governor of New York since 2022. He previously served as the U.S. representative from New York's 19th congressional district. He is the first person of either African–American or Latino descent to be elected to Congress from Upstate New York.[1]
On May 3, 2022, Governor Kathy Hochul announced that she had appointed Delgado to serve as lieutenant governor of New York after Brian Benjamin resigned; Delgado was sworn in on May 25, 2022. He is the first Latino to hold statewide office.[2]
Early life and career
Delgado was born in 1977 in Schenectady, New York,[3] to Tony Delgado and Thelma P. Hill.[4] He is of Afro-American,[5] Cape Verdean[6] and Afro-Latino ancestry.[7] Delgado has three younger brothers: Kito, Kendall, and Julian. He grew up in the Hamilton Hill neighborhood of Schenectady.[8]
Delgado attended Notre Dame-Bishop Gibbons High School and played for the school's basketball team as a forward. In his senior year, The Daily Gazette named Delgado to its all-area second team. He then enrolled at Colgate University and played for the Colgate Raiders men's basketball team alongside future Golden State Warriors player Adonal Foyle.[9][10] Delgado graduated from Colgate in 1999[9] and earned a Rhodes Scholarship to study at The Queen's College, Oxford, from which he received a Master of Arts in 2001.[8] In 2005, Delgado graduated from Harvard Law School.[11]
After law school, Delgado moved to Los Angeles in 2005 and worked in the music industry.[11] In 2007, Delgado released a socially conscious rap album under the stage name "AD the Voice."[12][13] He then worked as a litigator in the New York office of the law firm Akin Gump.[14]
U.S. House of Representatives
Elections
2018
In the 2018 elections, Delgado ran for the United States House of Representatives in New York's 19th congressional district. He defeated six other candidates in the Democratic Party's primary election and faced incumbent Republican John Faso in the November 6 general election.[15]
During Delgado's campaign, he criticized Faso for his votes against the Affordable Care Act.[16] Faso, alongside the Congressional Leadership Fund and the National Republican Congressional Committee, launched attacks on Delgado's former rap career,[17][18] commonly referring to Delgado as a "big city rapper."[19] The New York Times Editorial Board condemned the attacks as "race-baiting."[20]
Delgado won the general election, receiving 132,001 votes to Faso's 124,408.[21][22] He was sworn into office on January 3, 2019.[23]
2020
Delgado ran for reelection to a second term in 2020. He ran unopposed in the Democratic primary and faced Republican nominee Kyle Van De Water, an attorney and former trustee of the village of Millbrook, New York.[24] Delgado won the general election with 192,100 votes to Van De Water's 151,475.[25]
Tenure
As of June 2022, Delgado had voted in line with Joe Biden's stated position 100% of the time.[26]
Committee assignments
Lieutenant governor of New York
On May 3, 2022, after Lieutenant Governor Brian Benjamin resigned, New York Governor Kathy Hochul appointed Delgado lieutenant governor of New York.[28][29] Delgado was sworn in on May 25.[30] He appeared on the Democratic primary ballot in the 2022 election for lieutenant governor.[31] He won the primary election with 58% of the vote and will appear with Hochul on the general election ballot.[32]
Electoral history
New York's 19th congressional district, 2018

Party
Candidate
Votes
%
Democratic
Antonio Delgado
135,582
47.1
Working Families
Antonio Delgado
9,237
3.2
Women's Equality
Antonio Delgado
3,054
1.1
Total
Antonio Delgado
147,873
51.4
Republican
John Faso
112,304
39.0
Conservative
John Faso
16,906
5.9
Independence
John Faso
3,009
1.0
Reform
John Faso
654
0.2
Total
John Faso (incumbent)
132,873
46.1
Green
Steven Greenfield
4,313
1.5
Independent
Diane Neal
2,835
1.0
Total votes
287,894
100.0
Democratic gain from Republican
New York's 19th congressional district, 2020[25]

Party
Candidate
Votes
%
Democratic
Antonio Delgado
168,281
48.0
Working Families
Antonio Delgado
22,969
6.6
SAM
Antonio Delgado
850
0.2
Total
Antonio Delgado (incumbent)
192,100
54.8
Republican
Kyle Van De Water
151,475
43.2
Libertarian
Victoria Alexander
4,224
1.2
Green
Steve Greenfield
2,799
0.8
Total votes
350,598
100.0
Democratic hold
Personal life
Delgado married Lacey Schwartz in 2011.[4] In 2015, Schwartz made Little White Lie, a documentary film for PBS about being biracial.[8] Delgado and Schwartz have twin sons and live in Rhinebeck, north of Poughkeepsie.[9]
Delgado is 6 feet 4 inches (1.93 m) tall.[33]
See also
References
External links
Issues
Source: Government page
Committees
COMMITTEE ON AGRICULTURE
CHAIR of the Subcommittee on Commodity Exchanges, Energy and Credit
Subcommittee on Biotechnology, Horticulture and Research
COMMITTEE ON SMALL BUSINESS
Subcommittee on Economic Growth, Tax and Capital Access
COMMITTEE ON TRANSPORTATION AND INFRASTRUCTURE
Subcommittee on Highways and Transit
Subcommittee on Water Resources and Environment
Legislation
Sponsored and Cosponsored
Issues