Summary
Current Position: US Representative for NY District 12 since 1993
Affiliation: Democrat
Former Position(s): New York City Council from 1983 – 1993
Other Positions:  
Chair, Committee on Oversight and Reform
Featured Quote: 
I promised I would investigate Jan 6, regardless of the outcome of the impeachment or vote on a bipartisan commission. This morning, @OversightDems, the Committee I chair, released new docs about Trump's pressure campaign on DOJ to overturn the election.
Featured Video: 
Rep. Carolyn Maloney questions JP Morgan CEO on the bank's lending to firearm manufacturers
News
Democratic New York Rep. 
Carolyn Maloney
 hit the Met Gala red carpet on Monday night in a gown that loudly called for women's equality.
Twitter
About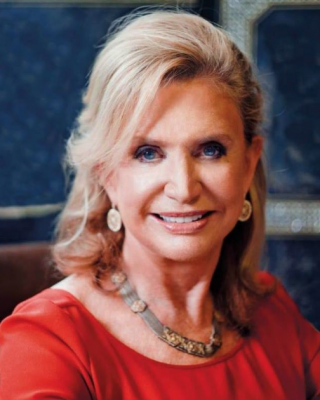 Source: Government page
"A tenacious, resilient legislator"  –Time Magazine
"A tiger in the House on every dollar due New York"  –The Village Voice
"The best friend a credit card user ever had"  –Money Magazine
 "No one has been a greater (anti-trafficking) champion than Carolyn Maloney, a Democratic Congresswoman from New York." — Nicholas D. Kristof and Sheryl WuDunn, "Half the Sky" (Knopf, 2009)
"While I am critical of Congress, kudos have to be given to Congresswoman Carolyn Maloney, Chair of the Joint Economic Committee, for her efforts…"  –Joseph E. Stiglitz, "Freefall" (Norton, 2009)
"New York's Congressional delegation stands out for their moxie, kind of the way New Yorkers themselves often do. Among the brashest members is Rep. Carolyn B. Maloney, a Democrat of Manhattan" –The New York Times
First elected to Congress in 1992, Carolyn B. Maloney is a recognized progressive national leader with extensive accomplishments on financial services, national security, the economy, and women's issues. She is currently Chairwoman of the House Committee on Oversight and Reform and former Chair of the Joint Economic Committee, the first woman to hold both of these positions.
Maloney has authored and passed more than 74 measures, either as stand-alone bills or as measures incorporated into larger legislation packages. Twelve of these bills were signed into law at formal (and rare) Presidential Signing Ceremonies.
Rep. Maloney's career has been a series of firsts. She is the first woman to represent New York's 12th Congressional District; the first woman to represent New York City's 7th Councilmanic district (where she was the first woman to give birth while in office); and was the first woman to Chair the Joint Economic Committee, a House and Senate panel that examines and addresses the nation's most pressing economic issues. Only 18 women in history have chaired Congressional committees. Maloney is the author of Rumors of our Progress Have Been Greatly Exaggerated: Why Women's Lives Aren't Getting any Easier and how we can Make Real Progress for Ourselves and Our Daughters, which has been used as a textbook in women's studies courses.
She has authored landmark legislation including; the James Zadroga 9/11 Health and Compensation Act, its reauthorization, and the Never Forget the Heroes: James Zadroga, Ray Pfeifer, and Luis Alvarez Permanent Authorization of the September 11th Victim Compensation Fund Act to make sure all those suffering health aliments associated with 9/11 get the medical care and compensation they need and deserve; the Debbie Smith Act, which increases funding for law enforcement to process DNA rape kits and has been called 'the most important anti-rape legislation in history;' and the Credit CARD Act, also known as the Credit Cardholders' Bill of Rights, which according to the Consumer Financial Protection Bureau (CFPB), has saved consumers more than $16 billion annually since it was signed into law in 2009. Her legislative achievements have been featured in three films: the documentary The Card Game, the documentary Overdrawn!, and the movie A Life Interrupted.
As Chairwoman of the Committee on Oversight and Reform, Congresswoman Maloney is leading the fight to protect the 2020 Census from the Trump Administration's partisan, political attacks and to ensure that the United States Postal Service (USPS) is able to operate at its full capacity. She is the author of the Fair and Accurate Census Act which would ensure that Census Bureau professionals have the time and resources they need to complete a full and accurate count, the Delivering for America Act to restore USPS services to January 2020 standards and ensure they stay at that level through the pandemic, and the Nonpartisan Postmaster General Act to prevent partisan politics from including in the Postal Service.
In addition to serving as Chairwoman of the House Committee on Oversight and Reform, Maloney is a senior member of the House Financial Services Committee and the Joint Economic Committee. In the House Democratic Caucus, she has served as a Regional Whip and as Vice-Chair of the House Democratic Steering and Policy Committee.
On the House Financial Services Committee she has worked to modernize financial services laws and regulations, strengthen consumer protections, and institute more vigilant oversight of the safety and soundness of our nation's banking industry. In the 114th Congress, she was selected by her Committee colleagues to be Ranking Member on the Subcommittee on Capital Markets and Government Sponsored Enterprises and continued in this position in the 115th Congress. In the 116th Congress, up until her election as Chairwoman of the Committee on Oversight and Reform, she served as the Chair of the Subcommittee on Investor Protection, Entrepreneurship, and Capital Markets. She continues to serve as a member of this subcommittee and the Subcommittee on Housing, Community Development, and Insurance.
Maloney served on the historic conference committee for the Dodd-Frank financial reforms, which also created the Consumer Financial Protection Bureau. Her Credit Cardholders' Bill of Rights (the Credit CARD Act) was signed into law by President Obama in Spring of 2009. She is currently working to curb the use of anonymous shell companies that finance illicit drugs, human trafficking, and terrorism and to pass her Overdraft Protection Act, which would protect consumers from abusive overdraft fees.
As a senior member of the House Committee on Oversight and Reform, Maloney's legislation has helped government work more efficiently and has saved hundreds of millions in taxpayer dollars.
As co-founder of the House 9/11 Commission Caucus, Maloney helped author and pass legislation which created the 9/11 Commission and, later, to implement all of the 9/11 Commission's recommendations for improving intelligence gathering—described as the most influential intelligence bill in decades. The James Zadroga 9/11 Health Care and Compensation Act, her bill to provide health care and compensation for 9/11 first responders, residents and workers near Ground Zero passed Congress in late 2010 was signed into law by President Obama on January 2, 2011. The Zadroga Act's World Trade Center Health Program was permanently extended by the bill's reauthorization with an allocation of $8 billion in December 2015. The September 11th Victim Compensation Fund was permanently extended with the passage of the Never Forget the Heroes: James Zadroga, Ray Pfeifer, and Luis Alvarez Permanent Authorization of the September 11th Victim Compensation Fund Act in summer 2019.
A champion for domestic and international women's issues, Rep. Maloney has authored and helped pass legislation that targets sex trafficking, including the first bill that focused on the 'demand' side of human trafficking to punish the perpetrators of these heinous crimes. She is co-chair of the Congressional Caucus on Human Trafficking, and previously served as the co-chair of the Trafficking Task Force of the Congressional Caucus for Women's Issues.
During her first term in Congress, Rep. Maloney passed legislation that provides annual mammograms for women on Medicare. Her legislation to create Women's Health Offices in five Federal agencies was part of the landmark health care reform legislation, the Affordable Care Act, signed by President Obama.
New York City has no stronger advocate in Congress than Maloney. She has delivered more than $10 billion in federal aid to New York City, including billions of dollars for the two largest transit construction projects in the nation, the Second Avenue Subway and the East Side Access project, both of which run through her district, and have helped create thousands of jobs in New York. Among other projects she has secured federal funding for are: $670 million for replacing the Kosciuszko Bridge, $37.9 million for the Floating Hospital, $4.4 million for new ferries, $20 million for Dutch Kills Green, $27 million for Queensbridge roof repairs, and more than $300 million in federal grants for high-speed rail improvement projects in the Sunnyside Rail Yards.
During her time on the New York City Council, then Councilmember Maloney led the effort to implement Vendex and ensure city contracts were bidded and awarded responsibly. She has introduced similar legislation at the federal level.
Maloney has received numerous awards and honors during her time in office, including the TMG-eMedia Thought Leaders in Business Award; the Manhattan Chamber of Commerce Outstanding Service Award; the CUNY Women's Leadership Award; the Eleanor's Legacy Eleanor Roosevelt Trailblazer of Democracy Award; the Humane Society of the United States Humane Advocate Award; the Business and Professional Women's Club of New York State Outstanding Legislator Award; the Center for Women's Policy Studies Jessie Bernard Wise Women's Award; and the Planned Parenthood Responsible Choices Award. In 2003, she was the only legislator selected as part of the Ms. Magazine "Fifty Women Who Made a Difference" list. Maloney was recently named one of Women's eNews 21 Leaders for the 21st Century in May 2017.In March of 2020, Rep. Maloney was named the first-ever honorary member of the National Treasury Employees Union (NTEU) for her work on behalf of federal employees and her paid parental leave legislation.
Rep. Maloney has been recognized not only by her peers in Congress but also by outside groups for her ability to elicit change. GovTrack awarded her the top spot among House Democrats in their "Leadership Score" category – indicating her great ability to get cosponsors on her bills.
Maloney is currently a member of Women's Forum Inc., the Council on Foreign Relations, Women's City Club, Alice Paul Institute, Eleanor Roosevelt Legacy, Financial Women's Association, National Organization for Women, National Association of Business and Professional Women, New York Landmarks Conservancy, and CIVITAS.
She is an Eleanor Roosevelt Distinguished Member of the NY Junior League.
She is the founder and Co-Chair of the House Caucus on Hellenic Issues and the House Census Caucus.
Maloney attained a first-degree black belt in Taekwondo in January 2007.
Voting Record
Caucuses 
House 9/11 Commission Caucus
House Caucus on Women's Issues
United States Congressional International Conservation Caucus
Congressional Arts Caucus
Americans Abroad Caucus (founder and co-chair)
Congressional Progressive Caucus
House Baltic Caucus
Co-Chair, Congressional Hellenic Caucus
Afterschool Caucuses
Congressional Asian Pacific American Caucus
U.S.-Japan Caucus[127]
Medicare for All Caucus
Offices
MANHATTAN
1651 3rd Avenue
Suite 311
New York, NY 10128-3679
Phone: 212-860-0606
Fax: 212-860-0704
Hours:
​Monday – Friday 9:00am – 6:00pm
QUEENS
31-19 Newtown Ave.
Astoria, NY 11102
Phone: 718-932-1804
Fax: 212-860-0704
Hours:
Monday 9:30am – 2:00pm
Tuesday – Thursday 9:30am – 5:00pm
Friday 10:00am – 4:00pm
WASHINGTON DC
2308 Rayburn House Office Building
Washington, DC 20515
Phone: 202-225-7944
Hours:
Monday – Friday 9:00am – 6:00pm
Contact
Email:
Web
Government Page, Campaign Site, Twitter, YouTube, Facebook, Wikipedia
Politics
Source: none
Campaign Finance
Voting Record
VoteSmart – National Key Votes & Ratings
Search
Wikipedia Entry

Carolyn Bosher Maloney (née Carolyn Jane Bosher, February 19, 1946) is an American politician serving as the U.S. representative for New York's 12th congressional district since 2013, and for New York's 14th congressional district from 1993 to 2013. The district includes most of Manhattan's East Side, Astoria and Long Island City in Queens, Greenpoint, Brooklyn, as well as Roosevelt Island. Maloney is a member of the Democratic Party.
Maloney was the first woman to represent New York City's 7th Council district (where she was the first woman to give birth while in office).[1] On October 17, 2019, Speaker Nancy Pelosi chose Maloney to become acting chair of the House Oversight Committee after the death of Elijah Cummings.[2][3] She won the election to succeed Cummings on November 20.[4]
Early life, education, and career
Carolyn Jane Bosher was born in Greensboro, North Carolina, on February 19, 1946,[5] the daughter of Christine Elizabeth (née Clegg) and Ralph George Bosher.[6] She attended Greensboro College. After graduating, she visited New York City in 1970, and decided to stay.[7]
For several years, she worked as a teacher and an administrator for the New York City Board of Education.[8] In 1977, she obtained a job working for the New York State Legislature, and held senior staff positions in both the State Assembly and the State Senate.[8] In 1976 she married Clifton Maloney, an investment banker.
New York City Council
Maloney was elected to the New York City Council in 1982, defeating incumbent Robert Rodriguez[9] in a heavily Spanish-speaking district based in East Harlem and parts of the South Bronx. She served as a council member for 10 years.[10] On the council, she served as the first chair of the Committee on Contracts, investigating contracts issued by New York City in sludge and other areas. She authored legislation creating the city's Vendex program, which established computerized systems tracking information on city contracts and vendors doing business with the city.[11] Maloney also introduced the first measure in New York to recognize domestic partnerships, including those of same-sex couples.[12] She was the first person to give birth while serving as a council member, and the first to offer a comprehensive package of legislation to make day care more available and affordable.[8]
U.S. House of Representatives
Elections
In 1992, Maloney ran for Congress in what was then the 14th district. The district had previously been the 15th, represented by 15-year incumbent Bill Green, a progressive Republican. She won with 51% of the vote. The district, nicknamed the "silk stocking district", had been one of the few in the city in which Republicans usually did well; in fact, they held the seat for all but eight of the 56 years between 1937 and Maloney's victory. But it had been made significantly friendlier to Democrats by redistricting. The old 15th had been more or less coextensive with the Upper East Side, but the new 14th included Long Island City, portions of the Upper West Side, and a sliver of Brooklyn. Maloney also benefited from Bill Clinton's strong showing in the district.[13]
The core of Maloney's district was the Upper East Side, an area with a history of electing moderate Republicans. Their dominance waned throughout the 1990s, and by the early 2000s Democrats dominated every level of government.[14] This was exemplified in 1994 (the year of the Republican Revolution), when a serious challenger to Maloney, Republican City Councilman Charles Millard, lost badly. No Republican has gotten more than 30% of the vote in the district since.[15]
In 2004, Maloney faced a potential Democratic primary challenge from Robert Jereski, a former Green Party political candidate and unsuccessful candidate for delegate to the 2004 Democratic National Convention on the slate of Dennis Kucinich. Jereski opposed the Iraq War while Maloney had initially voted for the resolution to authorize force; she later renounced the war, including at a town hall meeting in her district with antiwar Congressman John Murtha, where her comments made headlines.[16] Jereski failed to qualify for the ballot because his petition was found to have invalid signatures, leaving him four short of the 1,250 required.
In December 2008, Maloney hired a public-relations firm to help bolster her efforts to be named by Governor David Paterson as Hillary Clinton's successor in the U.S. Senate. She toured parts of the state, but was overshadowed by Caroline Kennedy's promotional tour for the same seat. Maloney interviewed with Paterson for 55 minutes. Public opinion polls placed Maloney's support for the Senate seat in the single digits, trailing the front-runner, then-State Attorney General Andrew Cuomo, although her bid was endorsed by the National Organization for Women Political Action Committee, the Feminist Majority Political Action Committee,[17] New York Times columnist Nicholas Kristof,[18] and other columnists[19] and editorial boards.[20]
On January 23, 2009, Paterson chose Representative Kirsten Gillibrand.[21] Since Gillibrand is from upstate, many in NYC's political circles urged Maloney to primary Gillibrand in 2010.[22][23] Despite leading Gillibrand in the polls,[24][25] she instead ran to retain her congressional seat.[26] A decade later, Maloney was the sole member of Congress to endorse Gillibrand's 2020 presidential campaign.
In the Democratic primary for Congress on September 14, 2010, Maloney defeated a well-funded opponent, Reshma Saujani, a 34-year-old Indian-American hedge fund lawyer, by 62 percentage points.[27] That night, Saujani said, "I'm definitely running again",[28] but three months later announced publicly that she would not challenge Maloney again.[29]
In 2012 Maloney's Republican challenger was Christopher Wright, who took a leave of absence from J. P. Morgan to campaign. Maloney won with 80.9% of the vote, a margin of over 120,000 votes.[30]
In 2014, Maloney defeated Republican nominee Nicholas Di Iorio, a financial contractor with Pfizer,[31] with 80% of the vote.[32]
In the 2016 Democratic primary, Maloney defeated Pete Lindner with 90.1% of the vote. She defeated Republican Robert Ardini in the general election with 83.2% of the vote.[33]
In the 2018 Democratic primary, Maloney defeated progressive candidate Suraj Patel with 59.6% of the vote. In the general election she defeated Republican nominee Eliot Rabin with 86.4% of the vote.[34]
In the 2020 Democratic primary, Patel challenged Maloney again, as did progressive Democrat Lauren Ashcraft[35] and housing activist Peter Harrison. Erica Vladimer, a co-founder of New York State's Sexual Harassment Working Group, withdrew from the race before the primary.[36][37] By July 29, 2020, it was revealed that Maloney led Patel by about 4% and 3,700 votes.[38][39] On August 4, 2020, local election officials declared Maloney the winner of the primary.[40][41]
As of March 30, 2022, Maloney is 20th in seniority in the House.
Tenure
In 2009, the National Journal's annual ranking placed Maloney as the 114th-most liberal (or 314th-most conservative) member of Congress, with more liberal scores on foreign policy than on economic and social policy. Her score of 75.5 ranked her as modestly more liberal than the New York Congressional delegation as a whole.[42]
In 2011, a Daily News survey found that Maloney ranked first among New York's 28 representatives for activity with 36 proposed bills, resolutions, and amendments.[43] In the 2013 legislative session, Govtrack.us scored her third among House Democrats for "Leadership," third among all representatives for "Powerful Co-sponsors," third-highest in the New York delegation for "Working with the Senate," and fifth-highest among all representatives for "Bills Sponsored."[44] During the 2014 election cycle, the New York Daily News ran a story that said, "Maloney has proposed more legislation than any other House member, according to records", and called her "James Zadroga 9/11 Health and Compensation Act, giving compensation to Ground Zero workers who have fallen ill, as big a bill for the New York area as any in the last decade."[45]
For the 2015 legislative session, Govtrack.us scored Maloney first for "Leadership" among House Democrats, based on sponsoring the most bills. It scored her second among all representatives for having the most co-sponsors, second for "Working with the Senate" and fourth among House Democrats for having powerful cosponsors. She was ranked in the top 10% of all representatives for bills introduced ("Maloney introduced 26 bills and resolutions in 2015").[46]
As a U.S. Representative, Maloney was a superdelegate at presidential conventions. In the 2016 election cycle she was an early supporter of former Secretary of State and Senator Hillary Clinton.[47] According to her 2018 GovTrack Report card Maloney ranked in the 80th percentile among House members for getting bicameral support for the bills she has introduced; she ranked sixth among House Democrats.[48]
For her tenure as chair of the House Oversight and Reform Committee in the 116th Congress, Maloney earned an "A" grade from the nonpartisan Lugar Center's Congressional Oversight Hearing Index.[49]
Following the terrorist attacks of September 11, 2001, Maloney advocated for federal help for New York's recovery and security efforts. Her efforts prompted Wayne Barrett of the Village Voice to write that Maloney was "like a tiger in the House on every dollar due New York."[50]
On February 25, 2019, she introduced her Never Forget the Heroes Act, HR1327 in the 116th Congress—a bill to establish Permanent Authorization of the September 11 Victim Compensation Fund Act.[51] The $10.2 billion authorization was signed into law, establishing that both the World Trade Center Health Program and September 11 Victim Compensation are effectively permanent, with the WTCHP authorized to operate until 2090 and the VCF until 2092.[52]
National security issues
After the 9/11 Commission published its findings, Maloney co-founded the bipartisan House 9/11 Commission Caucus[53] and helped write and secure the enactment into law of many of its recommendations to reform the nation's intelligence agencies[54][55] Congressional Quarterly wrote in its annual guide, 2006 Politics in America: "In the 108th Congress, Maloney reached out beyond her usual roles as a liberal gadfly and persistent Bush administration critic, helping win enactment of a sweeping bill to reorganize U.S. intelligence operations."[56]
Following the Dubai Ports World controversy, Maloney helped secure the passage and enactment of her bill to reform the system for vetting foreign investments in the United States.[57][58] She has supported Scientology's "New York Rescue Workers Detoxification Project".[59]
On October 1, 2020, Maloney co-signed a letter to Secretary of State Mike Pompeo that condemned Azerbaijan's offensive operations against the Armenian-populated enclave of Nagorno-Karabakh, denounced Turkey's role in the Nagorno-Karabakh conflict, and criticized "false equivalence between Armenia and Azerbaijan, even as the latter threatens war and refuses to agree to monitoring along the line of contact."[60]
Maloney, who chairs the House Oversight and Reform Committee, called on FBI Director Christopher A. Wray to open a probe into social media platform Parler, writing, "The company was founded by John Matze shortly after he traveled in Russia with his wife, who is Russian and whose family reportedly has ties to the Russian government."[61]
Gun control
In response to a number of high-profile incidents of gun violence, Maloney sponsored two bills to address the issue. The Gun Trafficking Prevention Act of 2013 would make gun trafficking a federal crime for the first time and substantially stiffen the penalties for "straw buyers" who knowingly help convicted felons, domestic abusers, the violently mentally ill and others, obtain guns.[62] A second bill, reintroduced in 2014 and 2015, would require gun owners to maintain liability insurance, just as most car owners must do.
In 2014, she joined Senator Ed Markey in sending President Barack Obama a letter asking him to insert $10 million into the budget for the Centers for Disease Control and Prevention to resume research on gun violence and "conduct scientific research on the causes and prevention of gun violence."[63]
Government transparency
In 2008, after reports of corruption among military contractors in Iraq and Afghanistan, Maloney secured House passage of her bill to create a database to better monitor all federal contracts, the key provisions of which were adopted into law as part of the defense budget.[64][65]
In 2010, the Project On Government Oversight, a government watchdog group, presented Maloney with its Good Government Award for her contributions to government transparency and oversight, including her investigations into corruption and mismanagement in the Minerals Management Service and her support of a Federal Contractor Misconduct Database similar to POGO's.[66]
In 2019, Maloney introduced a bill that would require corporate entities to disclose the identities of beneficial owners to FinCEN, making it harder for them to hide assets and avoid taxes through a series of limited liability companies.[67]
Health care
Maloney has taken several actions on health care issues. Her measure to provide Medicare coverage for annual mammograms was included in the Fiscal Year 1998 federal budget.[68] She advocated for providing federal support for medical monitoring and health care for rescue and recovery workers who were exposed to toxic smoke and dust at the Ground Zero site after the 9/11 attacks.[69] Maloney authored the James Zadroga 9/11 Health and Compensation Act and led the fight for years to push for its passage. In 2010 Obama signed the bill into law. It provides $4.3 billion in federal funds to provide 9/11 responders and survivors with treatment and compensation for their injuries. In June 2012, it was announced that the program would be expanded to cover care for a variety of cancers of the lung, trachea, stomach, colon, rectum, liver, bladder, kidney, thyroid and breast.[70]
In 2015 when roughly 33,000 responders and survivors were battling an assortment of ailments, Maloney led the effort to extend the bill permanently. After a prolonged and very public push, a total of $8.5 billion in funding was included in the Omnibus Spending bill that passed in 2015 and extended the life of the monitoring and health insurance coverage for 75 years.[51] In the 111th Congress, Maloney introduced The Breastfeeding Promotion Act to protect breastfeeding in the workplace under civil rights law and make it illegal for women to lose their jobs or otherwise be discriminated against for expressing milk during lunchtime or on breaks.[71] She has advocated for international women's health and family planning programs supported by the United Nations Population Fund.[72]
A co-founder and co-chair of the Congressional Working Group on Parkinson's Disease,[73] Maloney serves on the board of the Michael Stern Parkinson's Research Foundation[74] and previously served as an honorary board member of the Fisher Center for Alzheimer's Research Foundation.[75]
Maloney has promoted scientifically discredited claims of a link between vaccines and autism.[76] On several occasions, she has introduced legislation that would direct the federal government to conduct studies into the alleged links between autism and vaccines.[77][78][79][76][80] In a 2012 congressional hearing, Maloney equated concerns over a link between autism and vaccines to concerns over a link between smoking and cancer.[76] She said that it was "common sense that [smoking] was bad for your health… The same thing seems to be here with the vaccinations."[76]
Financial and economic issues
Maloney serves on the Committee on Financial Services and the Committee on Oversight and Government Reform, and is the Ranking Democratic member of the Joint Economic Committee. She previously chaired the Democratic Task Force on Homeland Security. From 2009 to 2011, Maloney chaired the Joint Economic Committee, the first woman to do so.
Maloney was the author of the Credit Cardholders' Bill of Rights, or the Credit CARD Act of 2009, while serving as chair of the Subcommittee on Financial Institutions and Consumer Credit, in the 110th Congress. A 2014 Social Science Research Network study estimated that since its passage, the CARD Act has saved consumers $11.9 billion per year.[81] Credit card companies fiercely opposed the measure, but it drew praise from editorial boards and consumer advocates.[82][83] The bill was passed as the Credit Card Accountability Responsibility and Disclosure Act by both houses of the 111th Congress, prompting Money magazine to dub Maloney the "best friend a credit card user ever had."[84] Obama signed the Credit Card Bill of Rights into law in a Rose Garden ceremony Maloney attended on May 22, 2009.[85]
Days after voting against cancellation of a $1 billion, 10-year subsidy plan for U.S. sugar farmers within the 2007 U.S. Farm Bill, Maloney hosted a fundraising event that netted $9,500 in contributions from sugar growers and refiners, according to Federal Election Commission records. Her election attorney, Andrew Tulloch, called the timing of the July 31 fundraiser "pure coincidence." The bill passed the House by a 282-144 vote.[86] The Sunlight Foundation pointed out that among the 435 members of the House, Maloney has the ninth-highest amount of investment in oil stocks.[87] She received a perfect 100 rating from the Defenders of Wildlife Action Fund in 2007,[88] a perfect 100 rating from Environment America in 2008[88] and a perfect 100 from the League of Conservation Voters in 2008.[89] And in 2008, Maloney introduced the Minerals Management Service Improvement Act (HR 7211) as a House companion to Integrity in Offshore Energy Resources Act (S. 3543). The legislation would impose dramatically tougher ethics rules for the Minerals Management Service, which was at the center of a major corruption scandal stemming from its employees' relationships with oil company representatives.[90]
Women's, children's and family issues
Maloney has been active on many other issues involving women, children and families since the beginning of her career.[10] A former co-chair of the House Caucus on Women's Issues, she authored and helped secure the enactment into law of a measure to provide federal funding to clear the backlog of rape kits for which evidence had been collected, but never entered into law enforcement DNA databases. The Rape Abuse and Incest National Network called it "the most important anti-rape legislation ever considered by Congress".[91] Maloney's bill, included in the Justice for All Act of 2005, was named the Debbie Smith Act in honor of Debbie Smith, a rape survivor. The effort to enact the bill was later the subject of a Lifetime Television movie, A Life Interrupted: The Debbie Smith Story,[92] in which Maloney was played by Lynne Adams. Maloney also co-authored and helped secure passage of bipartisan legislation to curb the demand for sex trafficking.[93]
Maloney introduced the Child Care Affordability Act of 2007 to increase access to child care by providing tax credits.[94] Her amendment to a foreign aid bill succeeded in securing $60 million in funding for programs for Afghan women and girls and to help establish an Afghan commission on human rights.[95] She is the chief House sponsor of the Equal Rights Amendment.[96] In 2008 and again in 2009, Maloney authored, and secured House passage of, a bill to provide four weeks of paid parental leave to federal employees.[97][98]
In 2011, Maloney sponsored the Campus Sexual Violence Elimination Act, known as the Campus SaVE Act. It became part of the reauthorization of the Violence Against Women Act of 2013. The measure guarantees counseling, legal assistance, and medical care on campuses for victims of sexual assault, establishes minimum, national standards for schools to follow in responding to allegations of sexual assault and sexual violence, and makes explicit that schools must provide to both the alleged perpetrator and the alleged victim the same rights, including access to advisers, written notifications, as well as appeals processes during campus disciplinary proceedings.[99]
District issues
Maloney has helped secure funding for major mass transit projects, resulting in the commitment of billions of federal dollars for New York State.[100][101] She has been hailed as a champion of the Second Avenue Subway.[101][102]
Maloney co-sponsored the 2009 reintroduction of the Fair Copyright in Research Works Act (H.R. 801, originally introduced as H.R. 6845 in 2008) and the Research Works Act (H.R. 3699) introduced in 2011. Both bills aim to reverse the NIH's Public Access Policy,[103] which mandates open access to NIH-funded research.[104] Some scientists criticized the Association of American Publishers-backed Research Works Act. In a New York Times op-ed, Michael Eisen said the bill would force the public to pay $15–$30 per paper to read the results of research they had already paid for as taxpayers.[105] (Such results must now be published in Pubmed Central (PMC) after an embargo period of up to 12 months; this embargo period was imposed to minimize financial harm to publishers who were concerned that their readership would diminish if the results appeared concurrently in PMC, though authors of the paper are required to submit their papers to PMC as soon as their paper gets accepted for publication by a peer-review journal.) Some have suggested that Maloney supports the measure because she is the recipient of campaign contributions from Elsevier, the largest scholarly publishing company.[105][106] On February 27, 2012, following a boycott of the organization, Maloney wrote to her constituents, "it is important to be mindful of the impact of various industries on job creation and retention. New York State is home to more than 300 publishers that employ more than 12,000 New Yorkers, many of whom live in or around New York City in my district. New York City scientific publishers represent a significant subset of the total, and more than 20 are located in Manhattan, publishing thousands of scientific journals and employing thousands of New Yorkers."[107] Elsevier withdrew its support for the legislation.[108][109]
In 2021, Maloney protested the expansion of the New York Blood Center, a nonprofit biomedical research facility, from a three story-headquarters to a 16-story tower on Manhattan's Upper East Side.[110]
Committee assignments
Caucus memberships
Scores by interest groups
Maloney's ratings from various interest groups include the following:[120]
Controversies
Wearing burqa on House floor
On October 16, 2001, Maloney wore an Afghan burqa while giving a speech in the United States House of Representatives in support of Afghan women's rights and American military involvement against the Taliban.[137][138] It was the first time an Islamic veil had been worn on the House floor, and was technically not allowed under an unenforced 1837 hat ban.[139]
In a 2018 Foreign Policy article, Rafia Zakaria, a Pakistani-American feminist author and journalist, called Maloney's display "theatrical" and an example of "American feminist exceptionalism, in which American women—intrepid and veil-free—are beacons of freedom with a duty to evangelize their particular brand of empowerment, even if it means using bombs."[140]
Use of the N-word
On July 20, 2009, Maloney apologized after saying the ethnic slur "nigger" while quoting a phone call she had received about U.S. Senator Kirsten Gillibrand in an interview with City Hall News.[141] At the time, she was a week away from announcing an official campaign against Gillibrand in the 2010 United States Senate Democratic Primary election in New York.[142] The quote, as reported by The Atlantic,[143] was:
"In fact, I got a call from someone from Puerto Rico, said [Gillibrand] went to Puerto Rico and came out for English-only [education]. And he said, 'It was like saying nigger to a Puerto Rican,'"
Civil rights activist Al Sharpton criticized the remark and called Maloney's casual use of the word "alarming" but said he did not believe she was racist.[144][142] She apologized and dropped out of the race on August 7, 2009, reportedly for different reasons.[145]
Personal life
Maloney and her husband, Clifton Maloney, raised two daughters.[146] Her husband died on a climbing expedition in 2009, after climbing world's sixth-tallest peak, Cho Oyu in Tibet.[147][148]
See also
References
Further reading
External links
Issues
Source: Government page
Committees
House Committee on Oversight and Reform
Congresswoman Maloney is the Chairwoman of the House Committee on Oversight and Reform.
House Committee on Financial Services
On the House Committee on Financial Services, Rep. Maloney serves as a member on Subcommittee on Investor Protection, Entrepreneurship, and Capital Markets and the Subcommittee on Housing, Community Development, and Insurance.
Legislation
Sponsored and Cosponsored
Issues