Summary
Current Position: US Representative for NY District 10 since 1992
Affiliation: Democrat
Former Position(s): State Delegate from 1977 – 1992
Other Positions:  
Chair, Judiciary Committee
Featured Quote: 
I couldn't be prouder of all @HouseJudiciary has already accomplished this Congress. It's an honor to lead this august committee—the work to build a more just America endures.
Featured Video: 
Trump impeachment hearing: Chairman Jerrold Nadler's opening statement
News
WASHINGTON (JTA) — A congressional letter backed by Muslim and Jewish groups is urging the federal government to make kosher and halal meat available to observant Jews and Muslims through an emergency food program.
Rep. Grace Meng, D-N.Y., initiated the letter sent Wednesday to Agriculture Secretary Tom Vilsack. Forty-eight Democrats have signed the letter, which was obtained exclusively by the Jewish Telegraphic Agency.
"As the United States continues to respond to the COVID-19 pandemic, as many as 29 million Americans continue to face food insecurity," the letter says. "The pandemic has exacerbated this problem and we are deeply concerned about the share of kosher and halal meat
and other protein options available to the many observant individuals and families who utilize" The Emergency Food Assistance Program, or TEFAP.
Other Democrats joining with Meng in asking fellow lawmakers to sign were Reps. Jim McGovern of Massachusetts; Ilhan Omar of Minnesota; and Ted Deutch of Florida. Deutch and Omar coordinating on the same issue is somewhat extraordinary: Deutch, who is Jewish, and Omar, a Muslim, have been sharply at odds on Israel policy.
In addition to Deutch, Jewish signers include Jake Auchnicloss of Massachusetts; Suzanne Bonamici of Oregon; David Cicilline of Rhode Island; Steve Cohen of Tennessee; Josh Gottheimer of New Jersey; Elaine Luria of Virginia; Jerrold Nadler of New York; Jan Schakowsky of Illinois; and Debbie Wasserman Schultz of Florida.
Twitter
About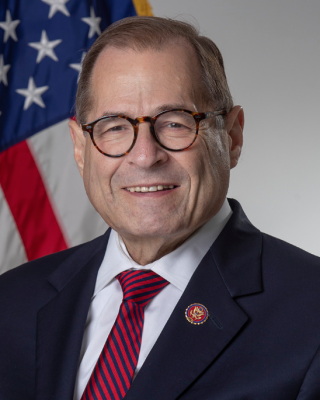 Source: Government page
"Jerry Nadler not only represents New York well, but he has represented the United States very well."
Congressman Jerrold "Jerry" Nadler represents New York's 10th Congressional District, one of the most dynamic and diverse districts in the country. The district includes Manhattan's Upper West Side, Morningside Heights, Hell's Kitchen, Chelsea, Greenwich Village, Soho, Wall Street, and Battery Park City, as well as the Brooklyn neighborhoods of Borough Park, Kensington, and parts of Bay Ridge, Bensonhurst, Dyker Heights, Red Hook, Sunset Park and Midwood.
Rep. Nadler began his career in public service in 1976 in the New York State Assembly. Representing the Upper West Side, he served as a Democratic Assemblyman for 16 years and played a significant role in shaping New York State law concerning child support enforcement and domestic abuse, as well as making major contributions to housing, transportation and consumer protection policy in the state.  In 1992, Rep. Nadler was elected to the U.S. House of Representatives in a special election and has served in Congress ever since.  He was re-elected to his fourteenth full term in 2018.
The Chairman of the House Judiciary Committee, Congressman Nadler served as Chairman or Ranking Member of its Subcommittee on the Constitution, Civil Rights, and Civil Liberties for 13 years and also served as the Ranking Member of the Subcommittee on Courts, Intellectual Property, and the Internet.
Rep. Nadler is a graduate of Crown Heights Yeshiva, Stuyvesant High School, Columbia University and Fordham Law School. He lives on the Upper West Side of Manhattan with his wife, Joyce Miller.
Fighting for Civil Rights, LGBT Rights, Women's Rights
"Jerry Nadler is a staunch defender of civil rights and civil liberties in America, and a passionate advocate for these issues in Congress."
For over 30 years, in both the House and in the New York State Assembly, Congressman Nadler has proudly been on the front lines in the fight for civil rights, and has been a relentless defender of our country's fundamental promise of equality for all.  Central among his concerns has been the ongoing civil rights struggle for people of color. Rep. Nadler has been a leader in the fight to protect voting rights and reduce voter disenfranchisement. He served as a key House leader behind the reauthorization of the Voting Rights Act, continuing to serve on the small House working group directing its advancement, and held oversight hearings on Department of Justice efforts to combat voter suppression.  He also has worked vigorously to call attention and seek remedies to past and present racial injustices.  Rep. Nadler was an original co-sponsor of the Pigford Claims Remedy Act of 2007 (H.R. 3073), and held a landmark Judiciary subcommittee hearing on the Pigford case, which involved thousands of African-American farmers who suffered discrimination at the hands of the Department of Agriculture for most of the 20th century.  He also championed the Emmett Till Unsolved Civil Rights Crime Act, which he ushered through to a decisive House victory.
Congressman Nadler has also taken an active role in working against discriminatory racial profiling by law enforcement, co-sponsoring the End Racial Profiling Act among other actions, and has devoted considerable time as a senior Member of the House Judiciary Committee to monitoring and reinforcing voting rights for African-Americans and other groups that have been systematically disenfranchised.  He was one of the first to call for a Justice Department investigation in 2000 of Mayor Giuliani and then-NYPD Commissioner Howard Safir after three separate fatal shootings involving three unarmed New Yorkers—Patrick Dorismond, Amadou Diallo, and Gideon Busch—and was an outspoken advocate for justice in the deaths of Michael Brown and Eric Garner in 2014.  In his district, Rep. Nadler successfully worked to create the African Burial Ground National Historic Site in Lower Manhattan, recognizing the landmark 17th and 18th century African burial ground discovered there.
"Congressman Jerrold Nadler is one of the nation's fiercest protectors of LGBT rights and a powerful ally for trans equality."
A Vice-Chair and founding member of the House Lesbian, Gay, Bisexual and Transgender (LGBT) Equality Caucus, and the first from New York's congressional delegation to openly support marriage equality, Rep. Nadler has been an original co-sponsor of every major piece of LGBT civil rights legislation for the last twenty-plus years. He personally authored the Respect for Marriage Act (RMA), the Uniting American Families Act (UAFA), the Father Mychal Judge Act, and the Equal Access to Social Security Act, marking his place as a central architect of LGBT legislative strategy in Congress.  He led the fight in the House against the Defense of Marriage Act and the Federal Marriage Amendment and continues to oppose anti-gay efforts as they emerge in Congress.  Additionally, Rep. Nadler authored and led the Congressional amicus briefs in the two most significant marriage equality-related cases to go to the Supreme Court—both Windsor and Obergefell—and procured the first-ever non-AIDS related House appropriation for a LGBT organization — New York's LGBT Center.  He was also one of only six members of the House Democratic Caucus to oppose the Employment Non-Discrimination Act when it failed to protect members of the transgender community.  Former Representative Barney Frank has praised Rep. Nadler's record, saying: "Jerry Nadler has been a vigorous, unyielding, active supporter of fairness for gay men and lesbians on every relevant issue since he came to Congress."
"Jerry Nadler is at the forefront of the movement to protect reproductive freedom, fighting every day against anti-choice leaders in Congress."
Congressman Nadler has played a significant role in the fight for women's rights, serving as a central figure in the reauthorization of the Violence Against Women Act and the author of the Pregnant Workers Fairness Act.  In recognition of his leadership in the area of equal pay, Rep. Nadler was invited to join President Obama at the White House for the signing of the Lily Ledbetter Fair Pay Act.
Representative Nadler is nationally recognized as a staunch defender of women's health, including a woman's constitutional right to access an abortion.  As a senior Member of the House Judiciary Committee and a leader in the House Pro-Choice Caucus, he has often taken a central role in standing up to conservative attacks against every American's right to make personal decisions about reproductive health, including devising the strategy to defeat countless anti-choice bills and carrying the movement's signature piece of legislation — the Freedom of Choice Act.  Because of his strong voice defending such rights, in 2015 Rep. Nadler was named by Leader Nancy Pelosi as one of six Democratic Members (and the only male Member) chosen to serve on the Republicans' Select Committee shamefully set up to attack women's health organizations like Planned Parenthood, which provides lifesaving reproductive health services to millions of women and families across the country.
Rep. Nadler has also been a life-long advocate for the differently-abled, shepherding the Americans with Disabilities Act Restoration Act of 2007 through the House.
Even early in his career in the State Assembly, Rep. Nadler was a major civil rights voice. He passed the first bills protecting People with AIDS (PWAs) from discrimination and served as a key women's rights advocate, garnering the New York State Chapter of the National Organization for Women's "Legislator of the Year" Award, the first and one of only two men to ever receive this honor.
Defending Civil Liberties
"Jerry Nadler is a gifted constitutional scholar and the conscience of the House."
As a nationally recognized leader on civil liberties, Congressman Nadler has fought for protections against unwarranted government interference in our personal affairs and has been called "one of the House's most stalwart defenders of the Constitution" by the American Civil Liberties Union. His legislation to remove the most pernicious elements of the USA PATRIOT Act and stop the NSA's dragnet surveillance of Americans has won him praise from organizations and individuals spanning the political and ideological spectrum. In 2015, he was one of four Members of the U.S. House of Representatives to author the bipartisan USA Freedom Act—ending the illegal collection of bulk data by the NSA—the passage of which represented the first significant reform of government surveillance carried out by the federal government since 1978.
Another hallmark of Rep. Nadler's career is his commitment to due process rights for the accused, his work to prevent prosecutorial over-zealousness and misconduct, and his staunch advocacy against the use of illegal torture methods.
Congressman Nadler serves as a champion in the House for free speech and free expression. He has often taken difficult votes on controversial issues in order to remain true to his principles and the fundamental belief in the rights guaranteed under the First Amendment.  He is one of Congress's most vocal defenders of the separation of church and state and of Americans' right to exercise their religion freely, while also denouncing efforts by some to use religion as an excuse to discriminate.  Rep. Nadler was one of the lead Democratic sponsors of the Religious Freedom Restoration Act (RFRA) and the author of the Religious Land Use and Institutionalized Persons Act (RLUIPA), which ensure that individuals are able to assert their religious beliefs without jeopardizing the freedom and rights of others.  He also has opposed state-based laws with similar titles that were specifically designed to discriminate against LGBT Americans.
Throughout his career, Congressman Nadler has adamantly supported the right to free speech and assembly for protestors, including during the 2004 Republican National Convention and the Occupy Wall Street demonstrations, which centered in his district.
Improving Our Transportation and Infrastructure
"[Jerry Nadler] is the best advocate for public works and infrastructure we have ever had in Congress. He gets it! "
From his days as Chair of the Committee on Mass Transit and Rail Freight in the New York State Assembly, to his current position as the most senior Northeastern member on the House Transportation Committee, Congressman Nadler has long been considered a key expert and leading voice on transportation issues.  His entire career in public service has been spent working to increase funding for important transportation and infrastructure projects that move both people and goods.  He is a fierce advocate for urban transit, particularly New York's mass transit systems, and for improved roads and infrastructure, as well as for effective and sustainable goods movement in New York and nationwide.  As former Co-Chair of the Congressional Transit Caucus and the Fair Coalition, Rep. Nadler has led the national fight to increase federal funding for mass transit and for equitable formulas that ensure transit-dependent states get their proper share of highway funding.
"What has made [Rep. Nadler] truly stand out is his devotion in improving the city's infrastructure, particularly rail freight and the future of New York Harbor. On this issue he has been nothing less than a visionary, leading the call for the crucial revitalization of the port of New York."
For over three decades, Congressman Nadler has been at the forefront of efforts to more efficiently move goods in New York by reconnecting the City to the nation's freight rail system via the construction of a tunnel under New York Harbor.  The Cross Harbor Rail Freight Tunnel would fundamentally decrease New York's over-dependence on truck-borne freight by taking up to 1 million trucks off City streets annually.  This would help solve New York's major traffic congestion issues, eliminate a built-in cap on economic development, reduce greenhouse gas emissions by thousands of tons, improve public health, and address a major national security vulnerability.  Rep. Nadler has also been a dedicated supporter of the New York/New Jersey Port District. He is a fierce promoter of regional maritime commerce, working to ensure that New York sees its fair share of key benefits from maritime-related economic development.  In this regard, he has led a decades-long fight to preserve Brooklyn's Red Hook Container Port, and has served as the leading advocate for the creation of a deep water container port in Sunset Park, Brooklyn.
Recovering from the 9/11 Attacks
"Representative Jerrold Nadler has played an extraordinary role in raising questions about the environmental and occupational hazards caused by the collapse of the World Trade Center and the fires that burned at Ground Zero for more than four months."
After the devastating 9/11 terrorist attacks on the World Trade Center, which stood in the Congressman's district, Rep. Nadler led the fight in Congress and at the White House to secure $20 billion for recovery work, and consistently spoke up for New York when the rebuilding effort required help from the federal government.
In the aftermath of the attacks, the Environmental Protection Agency (EPA) refused to properly test and cleanup buildings contaminated by the collapse of the Twin Towers, and falsely declared it safe for workers, residents, and students to return to the area.  Congressman Nadler led the fight for a more comprehensive cleanup and held hearings in which former EPA head Christine Todd Whitman was forced to admit that the Agency had lied about the air quality in Lower Manhattan.  Juan Gonzalez of the Daily News wrote, "Of all the politicians in this town, Nadler has fought the hardest to get EPA to assume responsibility for indoor cleanup." These hearings also laid the groundwork for the federal government to take responsibility for treating and compensating 9/11 responders and survivors.  This responsibility was enshrined in the James Zadroga 9/11 Health and Compensation Act of 2010, of which Rep. Nadler was a co-author.  As a leading proponent for its reauthorization, Rep. Nadler continued to advocate for the health and well-being of those directly affected by the attacks on 9/11, ensuring the full reauthorization of Zadroga as part of the FY2016 Omnibus Appropriations bill.
Congressman Nadler has also fought for homeland security improvements to prevent future attacks.  He helped author the provision of the Implementing Recommendations of the 9/11 Commission Act of 2007 (PL 110-53) based on his Sail Only if Scanned (SOS) Act, requiring that all shipping containers are scanned in foreign ports to prevent nuclear, biological, and/or chemical weapons from being smuggled into the United States.
Supporting Israel and Combating Anti-Semitism
"[Jerry] Nadler has spent his life and career as one of the most steadfast supporters of Israel's security."
Jerry Nadler has consistently been recognized as one of Israel's strongest supporters in the U.S. House of Representatives—working diligently towards ensuring a safe, secure, peaceful, and democratic Israel—and has often been a leader on the key issues of ever-strengthened U.S.-Israel cooperation and U.S. foreign aid.  Congressman Nadler has long been a leading voice in support of a two-state solution, seeing it as critical to protecting Israel's long-term strategic and security interests.  As such, he has consistently supported Middle East peace efforts, as well as direct negotiations between the parties, knowing full well that no resolution can be agreed upon until both sides feel that their needs are addressed.  He has continually insisted that the U.S. affirm Israel's right to self-defense, and has been a strong supporter of legislation that puts pressure on Iran for its illegal development of nuclear weapons, its support of terrorism, and Iran's other illicit and destabilizing conduct in the region. With Congressional passage of the Iran nuclear deal, which Congressman Nadler voted to support (to read his full statement Click Here), Rep. Nadler has worked vigorously to ensure that the United States demands full Iranian compliance with the agreement and that the Administration continues to enforce related international laws and non-nuclear sanctions. To this end, since the signing of the Agreement, he has been an outspoken advocate for the need to take action against Iranian illicit behavior, including its illegal ballistic missile testing, its support of terrorist organizations like Hezbollah, and its continued human rights abuses.
"Jerry Nadler is an ardent supporter of Israel. He is a man with a heart, a head, and considerable 'saichel' (good sense)."
As representative of the largest and most diverse Jewish community in any congressional district in the United States, Congressman Nadler has also been an outspoken leader against anti-Semitism and continues to lead a variety of efforts to stymie the growing anti-Zionist, anti-Jewish rhetoric and campaigns which seek to delegitimize Israel on the world stage.  This includes authoring a House-passed Resolution (H.Res.707) in 2014, condemning all forms of anti-Semitism and rejecting attempts to justify such hatred or violent attacks as an acceptable expression of disapproval or frustration over political events in the Middle East or elsewhere.  Congressman Nadler was one of the first Members of Congress to directly challenge the so-called Boycott, Divestment and Sanctions (BDS) movement against Israel, when, in its nascent form, it hi-jacked the UN Conference on Racism in Durban for its own political purposes.  Since then, Rep. Nadler, with his highly-regarded progressive political voice, has been considered particularly well-suited to challenge the BDS movement as destructive to Middle East peace when its supporters seek to make inroads on campuses and elsewhere across the country.  He has worked very closely with the Jewish Federations of North America's (JFNA) Israel Action Network and the New York Jewish Community Relations Council to develop new strategies to confront and defeat BDS efforts, and he has personally led a number of successful campaigns to beat back BDS.
In 2015, Rep. Nadler was named in the Forward's 'Forward 50' awards of American Jews to have made a significant contribution on national political and social issues.
Leading on Internet and Technology Issues
"[Congressman] Nadler was Silicon Alley's earliest serious political defenders."
Congressman Nadler represents one of the main tech-hubs of the East Coast—also known as Silicon Alley—and is viewed as a fierce promoter for the technology industry.  As a strong proponent of net neutrality, he has long opposed pay-to-play agreements, as well as blocking and discrimination of content, and has urged the FCC to reclassify broadband providers as common carriers.  In early 2015, Rep. Nadler reintroduced the Innovation Act, which would address the problem of shell companies, otherwise known as patent trolls, that seek to force financial settlements from businesses with threats of expensive lawsuits over very weak claims of patent infringement.
Representative Nadler has also taken principled stands on important technology-related issues, being an outspoken advocate in fighting against the overreach of the National Security Agency (NSA).  He introduced the Electronic Communications Privacy Act Modernization Act in 2012, which would enhance protections for private communications stored on remote computing services, and in 2014 helped lead House Judiciary Committee efforts to reform NSA spying programs and protect Americans' privacy. Congressman Nadler led efforts on behalf of the Democrats in 2015 as one of four co-sponsors of a reintroduced USA Freedom Act, which ended bulk data collection and passed through both Houses of Congress during an intense debate on government surveillance.
Supporting the Artists and the Arts
"The nation knows him as a protector of civil liberties, defender of women's rights, promoter of access to health care and an expert on Middle East policy, but in addition to all of that we know him as a champion of another group that the law has left behind and that's music creators."
Representing a district widely recognized as an epicenter of artistic and creative activity, Congressman Nadler has taken a particular interest in the protection of artists' rights.  He is the lead sponsor of the American Royalties Too (ART) Act, which would require resale royalties be paid to visual artists when their work is resold and allow them to benefit when their work increases in value.  He has also shown a particular interest in solving difficult and complex issues for music creators.  Rep. Nadler introduced the Fair Play Fair Pay Act to establish a terrestrial (AM/FM) performance right, and require all forms of radio to pay the same fair market value to performing artists and musicians, including music recorded prior to 1972.  Enactment of these bills would correct two of the biggest U.S. copyright law injustices against artists and would bring the United States in line with the rest of the developed world.
Representative Nadler is a longtime, leading member of the Congressional Arts Caucus and created "Americans for the NEA", which brought pro-arts advocates from around the country to Washington to lobby against attempts to cut funding for the National Endowment for the Arts (NEA). He has also consistently fought for funding for the National Endowment for the Humanities, and the Corporation for Public Broadcasting.  He has helped secure hundreds of millions of dollars for New York's arts and cultural institutions, including Lincoln Center, the Met, the Museum of Natural History, the Museum of African Art, the NY Public Library for the Performing Arts, and many more institutions across the district.
Serving as a Strong, Principled Progressive Voice
"From his first days in politics, Nadler has been a true reformer… From defending abortion access to fighting for the environment and the arts, Nadler has done the right thing time after time."
As a veteran member of the Congressional Progressive Caucus, Jerry Nadler has been a champion of progressive causes both in New York and throughout the country. As one of Congress' leaders on affordable housing, Rep. Nadler has garnered hundreds of millions of dollars for the Section 8 program — just one of many accomplishments that led the New York Daily News to call him, "the liberal lion of the New York delegation." He has also fought vigorously against cuts to Social Security, Medicare, and SNAP benefits, and has been an aggressive supporter of health care expansion in order to maintain the nation's social safety net.
As a life-long advocate for working people, Congressman Nadler has promoted progressive economic development policy in New York, supporting good-paying union jobs, as well as national public policy solutions to end income inequality.  This includes leading House efforts to reform the country's bankruptcy laws in order to better protect average Americans.
"Strongly liberal, with a civil rights bent, [Jerry Nadler] is considered Congress' resident intellectual."
Rep. Nadler has a long and distinguished record working to reduce gun violence, as the author of bills improving the ban on assault weapons and preventing the sale of firearms to sex offenders.  He also has been a strong voice on climate change and environmental justice, and has led efforts to ensure that the Environmental Protection Agency (EPA) uses its full federal authority and responds more aggressively to major environmental disasters, such as the BP oil spill, and is the Congressional leader on clean ports.
Congressman Nadler's record has earned him scores of awards and praise from various progressive groups, including the League of Conservation Voters, Planned Parenthood, the NAACP, the Human Rights Campaign, the Brady Campaign to End Gun Violence, Children's Defense Fund, the American Civil Liberties Union, and the American Federation of Teachers.  In the 2015 TIME Magazine Person Of The Year issue, Jerry Nadler was named as a Teddy Award recipient for political courage.
Prioritizing Constituent Services and Community Relations
"[Jerry Nadler] has gone above and beyond in delivering for his constituents."
Rep. Nadler's constituent service staff works tirelessly to help constituents navigate the complex and daunting world of government services by streamlining access to healthcare, the IRS, Social Security Administration, and Veterans Affairs. Immigration and citizenship issues are a particular priority as the district includes one of the nation's largest communities of new immigrants. Congressman Nadler's robust community relations program has long played a key role in preserving affordable housing, stopping senseless overdevelopment, reducing crime, and enhancing our children's educational opportunities. Additionally, the Congressman has brought billions of dollars to the district for its infrastructure, social welfare, and cultural needs.
Voting Record
Caucuses
Congressional Arts Caucus
Congressional Progressive Caucus
Congressional Asian Pacific American Caucus
Medicare for All Caucus
Offices
Washington DC Office
2132 Rayburn HOB
Washington, DC 20515
Phone: 
202-225-5635
Manhattan Office
201 Varick Street, Suite 669
New York, NY 10014
Phone: 
212-367-7350
Brooklyn Office
6605 Fort Hamilton Parkway
Brooklyn, NY 11219
Phone: 
718-373-3198
Contact
Email:
Web
Government Page, Campaign Site, Twitter, YouTube, Facebook, Wikipedia
Politics
Source: none
Campaign Finance
Voting Record
VoteSmart – National Key Votes & Ratings
Search
Wikipedia Entry
Jerrold Lewis Nadler (/ˈnædlər/; born June 13, 1947) is an American lawyer and politician, serving as the U.S. representative for New York's 10th congressional district since 2013. A member of the Democratic Party, he is in his 15th term in Congress. He was originally elected to represent the state's 17th congressional district (1992–1993), which was renumbered the 8th congressional district (1993–2013) and now is the 10th congressional district. Nadler has chaired the House Judiciary Committee since 2019.
The 10th congressional district includes Manhattan's west side, from the Upper West Side down to Battery Park, including the World Trade Center; the Manhattan neighborhoods of Chelsea, Hell's Kitchen, and Greenwich Village; and parts of Brooklyn, such as Coney Island, Bensonhurst, Borough Park, and Bay Ridge. It includes many of New York City's most popular tourist attractions, including the Statue of Liberty, New York Stock Exchange, Brooklyn Bridge, and Central Park.[2][3] Nadler is the dean of New York's delegation to the House of Representatives.[4]
Early life, education, and early political career
Nadler was born into a Jewish family in Brooklyn, the son of Miriam (née Schreiber) and Emanuel "Max" Nadler.[5][6] Nadler described his father as a "dyed-in-the-wool Democrat" who lost his poultry farm in New Jersey when the younger Nadler was seven.[7] In his youth, he attended Crown Heights Yeshiva; he is the only member of Congress with a yeshiva education.[8][9] He graduated from Stuyvesant High School in 1965[10] (where his debate team partner was the future philosopher of science Alexander Rosenberg, and Dick Morris managed his successful campaign for student government president).[11]
Nadler received his B.A. in 1969 from Columbia University,[12] where he became a brother of Alpha Epsilon Pi.[13] After graduating from Columbia, Nadler worked as a legal assistant and clerk, first with Corporation Trust Company in 1970, then the Morris, Levin and Shein law firm in 1971.[14] In 1972, Nadler was a legislative assistant in the New York State Assembly before becoming shift manager at the New York City Off-Track Betting Corporation, a position he held until becoming a law clerk with Morgan, Finnegan, Pine, Foley and Lee in 1976.[14]
While attending evening courses at the Fordham University School of Law, Nadler was elected to the New York State Assembly in 1976. He completed his J.D. at Fordham in 1978.[7]
New York State Assembly
Nadler was a member of the New York State Assembly from 1977 to 1992, sitting in the 182nd, 183rd, 184th, 185th, 186th, 187th, 188th and 189th New York State Legislatures.
In 1985, he ran for Manhattan Borough President. He lost the Democratic primary to David Dinkins.[15] In the general election, he ran as the New York Liberal Party nominee, and again lost to Dinkins.
In 1989, he ran for New York City Comptroller. In the Democratic primary, he lost to Kings County D.A. Elizabeth Holtzman.
Nadler founded and chaired the Assembly Subcommittee on Mass Transit and Rail Freight.
U.S. House of Representatives
Elections
In 1992, Ted Weiss was expected to run for reelection in the 8th district, which had been renumbered from the 17th after the 1990 U.S. Census. But Weiss died a day before the primary election. Nadler was nominated to replace Weiss. He ran in two elections on Election Day—a special election to serve the rest of Weiss's eighth term in the old 17th district, and a regular election for a full two-year term in the new 8th district. He won both handily, and has been reelected 15 times with no substantive opposition. In 2020 Nadler faced a primary challenge from activist Lindsey Boylan; the election was the first time in his tenure that Nadler received less than 75% of the vote.[16] The district was renumbered the 10th district after the 2010 census. A Republican has not represented this district or its predecessors in over a century.[17]
The 10th district includes Manhattan's west side from the Upper West Side down to Battery Park, including the World Trade Center; the Manhattan neighborhoods of Chelsea, Hell's Kitchen and Greenwich Village; and parts of Brooklyn, such as Coney Island, Bensonhurst, Borough Park and Bay Ridge. It includes many of New York City's most popular tourist attractions, including the Statue of Liberty, New York Stock Exchange, Brooklyn Bridge and Central Park.[18][19]
Tenure
Nadler chairs the U.S. House Committee on the Judiciary and is a member of the Transportation and Infrastructure committees.[20]
Despite earlier efforts to impeach George W. Bush[21] and more recent requests from fellow representatives, he did not schedule hearings on impeachments for Bush or Dick Cheney, saying in 2007 that doing so would be pointless and would distract from the presidential election.[22] In an interview in Washington Journal on July 15, 2008, Nadler reiterated the timing argument and endorsed Barack Obama in the 2008 presidential election, saying that electing an honest candidate would create a greater chance of prosecuting those in the Bush administration who had committed war crimes.[23] Ten days later, after Representative Dennis Kucinich submitted Articles of Impeachment, the full House Judiciary Committee held hearings regarding the process covered solely by C-SPAN. A top Ronald Reagan Justice Department official, Bruce Fein, was among those testifying for impeachment.
On a similar note, referring to hypothetical impeachment proceedings against President Trump that would begin in the newly elected Democrat-controlled House, he suggested a "three-pronged test" that "would make for a legitimate impeachment proceeding". Such a test would include "the offenses in question must be so grave", and "the evidence so clear", that "even some supporters of the president concede that impeachment is necessary". If it was determined that the president committed an impeachable offense, lawmakers must consider if such an offense would "rise to the gravity where it's worth putting the country through the trauma of an impeachment proceeding," Nadler said.[24]
On September 24, 2019, Representative Lance Gooden proposed a resolution to remove Nadler from his position as chair of the House Judiciary committee, accusing him of unlawfully beginning impeachment proceedings before the House had given the committee authorization.[25][26]
For his tenure as chair of the House Judiciary Committee in the 116th Congress, Nadler earned an "A" grade from the nonpartisan Lugar Center's Congressional Oversight Hearing Index.[27]
PolitiFact criticized Nadler for falsely claiming in the Kenosha unrest shooting that Kyle Rittenhouse had brought a gun across state lines and might thus be subject to a federal Department of Justice review, when in fact he had not.[28]
Committee assignments
Current
Former
Caucus memberships
Political positions
Surveillance
Nadler was unhappy with the passage of the surveillance-reform compromise bill, the FISA Amendments Act of 2008, saying it "abandons the Constitution's protections and insulates lawless behavior from legal scrutiny".[33]
Income taxes
Nadler compared Obama's acceptance of Republican demands to extend Bush-era tax cuts at the highest income levels to someone's being roughed up by the mob, asserting that the Republicans would allow the middle class tax cut only if millionaires and billionaires receive a long-term tax cut as well.[34]
Nadler has proposed changing the income tax brackets to reflect different regions and their costs of living, which would have lowered the tax rate for New Yorkers.[35][36] He has opposed tax breaks for high-income earners, saying that the country cannot afford it.[34]
Abortion
Nadler vowed to reintroduce the Freedom of Choice Act during the Obama administration.[37] He has a 100% rating from NARAL Pro-Choice America.[38]
LGBT rights
Nadler supports same-sex marriage, and anti-discrimination protections on the basis of sexual orientation and gender identity.
On September 15, 2009, Nadler and two other representatives introduced the Respect for Marriage Act, a proposed bill that would have repealed the Defense of Marriage Act and required the federal government to recognize the validity of same-sex marriages.[39]
In 2019, Nadler supported the Equality Act, a bill that would expand the federal Civil Rights Act of 1964 to ban discrimination based on sexual orientation and gender identity.[40]
Immigration
In March 2019, as the House debated President Trump's veto of a measure unwinding his declaration of a national emergency at the southern border, Nadler said: "I'm convinced that the president's actions are unlawful and deeply irresponsible. A core foundation of our system of government and of democracies across the world, going back hundreds of years, is that the executive cannot unilaterally spend taxpayer money without the legislature's consent."[41]
Iran
In 2015, Nadler voted to support an agreement to lift economic sanctions against Iran in exchange for Iran's compliance with the terms of the agreement which called for substantial dismantling and scaling back of their nuclear program.[42]
Israel
In December 2017, Nadler criticized Trump's decision to recognize Jerusalem as the capital of Israel, saying: "I have long recognized Jerusalem as the historic capital of Israel, and have called for the eventual relocation of the United States Embassy to Jerusalem, the seat of the Israeli government. While President Trump's announcement earlier today rightly acknowledged the unique attachment of the Jewish people to Jerusalem, the timing and circumstances surrounding this decision are deeply worrying."[43]
Housing
In 2020, Nadler praised a judge for a ruling that could lead to the removal of 20 or more stories in an already constructed 52-story luxury high-rise building in the Upper West Side of New York City. The developer had received a permit to construct the building, but the judge said the permit should not have been given.[44]
Cannabis
In July 2019, Nadler introduced the Marijuana Opportunity Reinvestment and Expungement (MORE) Act that, among other reforms, seeks to remove cannabis from the Controlled Substances Act.[45] He said: "It's past time to right this wrong nationwide and work to view marijuana use as an issue of personal choice and public health, not criminal behavior."[46] In November 2019, the bill passed the House Judiciary Committee by a 24–10 vote, marking the first time that a bill to end cannabis prohibition had ever passed a congressional committee.[47]
Voting record
Nadler has a liberal voting record in the House. He gained national prominence during the impeachment of Bill Clinton, when he described the process as a "partisan railroad job".[48]
His Medicare proposal includes a section that provides for a consortium of organization to study Ground Zero illness.[49]
Personal life
Nadler and Josephine Langsdorr "Joyce" Miller wed in 1976.[50] As of 2013, they lived in Lincoln Square.[51]
In 2002 and 2003, Nadler had laparoscopic duodenal switch surgery, helping him lose more than 100 pounds.[52][53][54]
See also
References
External links
Issues
Committees
Legislation
Issues