Summary
Current Position: US Representative for NY District 25 since 2018
Affiliation: Democrat
Former Position(s): State Delegate from 1991 – 2018
Featured Quote: 
Today marks the 12-year anniversary since the last increase to the federal minimum wage in 2009. The federal minimum wage is STILL $7.25, and working families deserve better. It's time to #RaiseTheWage.
Featured Video: 
Joseph Morelle's statement about Mayoral Control of Schools
News
Washington (CNN)New York Rep. Joe Morelle announced Sunday that he has tested positive for Covid-19, stressing that his vaccination against the virus has prevented him from having a severe infection.
"After experiencing mild symptoms, I have tested positive for COVID-19. I have followed all guidance from the Center for Disease Control & my physician and will remain isolated until it is safe to resume official duties," Morelle, a Democrat, wrote in a 
tweet. 
"Thankfully, I'm fully vaccinated so my symptoms remain mild."
"I urge everyone to get the COVID-19 vaccine to protect themselves — and our community — from the severe impacts this disease can have. Had I not been vaccinated, my experience could have been much different," the congressman added in a separate tweet.
Morelle is among dozens of federal lawmakers who have announced they have tested positive over the course of the pandemic, and his infection comes weeks after a trio of senators announced positive tests in August.
Twitter
About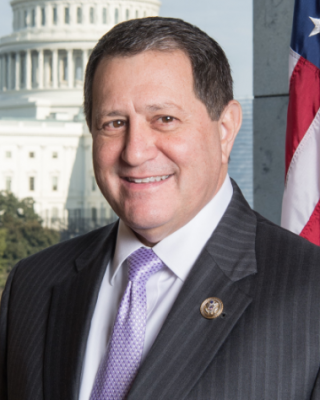 Congressman Joe Morelle is proud to represent New York's 25th Congressional District, which includes almost the entirety of Monroe County.  A lifelong resident of Upstate New York, Rep. Morelle is a former small business owner and was previously elected to the Monroe County Legislature as well as the New York State Assembly, where he served as Majority Leader from 2013-2018. Throughout his career, Rep. Morelle has worked diligently to improve and expand access to healthcare for all people, grow our economy, and protect our communities by passing legislation to ban assault weapons and strengthen gun background checks.
A graduate of the State University of New York at Geneseo, Rep. Morelle resides in the town of Irondequoit in Rochester, New York, with his wife, Mary Beth. They have three children and four grandchildren.
Voting Record
Caucuses 
Pro-Choice Caucus
Buy American Caucus
Congressional Career and Technical Education Caucus
Hydrogen and Fuel Cell Caucus
Small Brewers Caucus
Great Lakes Task Force
Sustainable Energy and Environment Coalition
Independent Colleges Caucus
Higher Education Caucus
STEM Education Caucus
21st Century Skills Caucus
House Manufacturing Caucus
Research and Development Caucus
Bipartisan Task Force to End Sexual Violence
Wine Caucus
Building Trades Caucus
Historic Preservation Caucus
Congressional Deaf Caucus
Equality Caucus
Gun Violence Task Force
Animal Protection Caucus
Heroin Task Force
Biomedical Research Caucus
Caucus to Combat Anti-Semitism
End Domestic Violence Caucus
Public Transportation Caucus
Northern Border Caucus
Public Works and Infrastructure Caucus
Disability Caucus
Telehealth Caucus
Future of Transportation Caucus
Dyslexia Caucus
Census Caucus
Italian-American Caucus
New Democrats Caucus
Congressional Progressive Caucus
Macedonian Caucus
Offices
1317 Longworth House Office Building
Washington, DC 20515
Phone: (202) 225-3615
3120 Federal Building
100 State Street
Rochester, NY 14614
Phone: (585) 232-4850
Fax: (585) 232-1954
Contact
Email:
Web
Government Page, Campaign Site, Twitter, Facebook, Wikipedia
Politics
Source: none
Campaign Finance
Open Secrets
Voting Record
VoteSmart – National Key Votes & Ratings
Search
Wikipedia Entry
Joseph D. Morelle (/məˈrɛli/ mə-RELL-ee; born April 29, 1957)[1] is an American politician serving as the U.S. representative for New York's 25th congressional district since 2018. A Democrat, he was formerly a member of the New York State Assembly representing the 136th Assembly district, which includes eastern portions of the City of Rochester and the Monroe County suburbs of Irondequoit and Brighton. Speaker Sheldon Silver appointed him as majority leader of the New York State Assembly in January 2013 and Morelle served as acting speaker in the Speaker's absence.[2] He was elected to the United States House of Representatives for New York's 25th congressional district in November 2018 following the death of longtime Representative Louise Slaughter.
Early life and education
Morelle was born in Utica, New York, to Gilbert and Juliette Morelle. Gil was a Korean War veteran, a heating and cooling technician and a lifelong Plumbers and Pipefitters Union member. Joe and his three siblings grew up Catholic, on Vayo Street in Irondequoit, where he attended Eastridge High School.[3] He received a bachelor's degree in political science from SUNY Geneseo[3] in 1986.[1]
In his early years, Morelle was a sales manager for a drycleaning and laundry business.[4] He got his political start working for State Senator John D. Perry as a constituent services representative in Rochester and legislative aide in Albany.[5]
Political career
County legislature
Morelle, a Democrat, made his first foray into elective politics at age 24 when he ran for a seat in the Monroe County legislature.[6] He failed to unseat the incumbent on the first try, but prevailed in the 1983 election.[7] He was reelected once before running for the New York State legislature.[8]
State legislature
Morelle was first elected to the State Assembly in 1990.[3] He ran uncontested in the November 2008 general election[9][10] and won the November 2010 general election with 61% of the vote.[11][12]
During his tenure in the state legislature, Morelle authored more than 200 laws, including major reforms to the workers compensation system, laws to require carbon monoxide detectors in one- and two-family homes, toughen regulations governing charitable organizations, protect the elderly and infirm who live in nursing homes or receive home based health care, and raise senior citizens' real property tax exemption. He sponsored bills to exempt veterans from certain state licensing fees, protect their grave sites, and assist them with the civil service application process.
In January 2001, Morelle was appointed chair of the Assembly Standing Committee on Tourism, Arts, and Sports Development. He worked with area leaders to develop Rochester as a center for tourism and the arts in Western New York.
In addition to the Tourism Committee, Morelle's standing committee assignments included Economic Development, Job Creation, Commerce and Industry; Higher Education; Local Governments; and Libraries and Education Technology. At his request, the Speaker created the Subcommittee on Manufacturing in order to give New York's manufacturing sector a greater voice in state government.
In 2005, Morelle issued a report, "Creating a State of Innovation: Unleashing The Power of New York's Entrepreneurial Economy", detailing New York's economic decline, particularly upstate, and offering numerous policy recommendations to reverse this years-long trend.
In 2005, Morelle was elected chair of the Monroe County Democratic Committee,[13] and held this position until 2014.
Campaign violations
In 1990, an acting state Supreme Court justice ruled that Morelle fraudulently obtained several signatures on nominating petitions to qualify him for an independent line on the 1990 ballot (New York permits cross-filing in some circumstances) during his run for the State Assembly.[5] Morelle remained on the ballot and won the election.[14] He later admitted that he allowed family members to sign the petitions for the individuals whose names appeared on them and did not personally witness the signatures, both of which are illegal.[14] In 1991 he was charged with seven misdemeanor counts of violating state election law.[14] Morelle denied intentionally violating the law, but accepted a plea bargain in which he was found guilty of two counts of disorderly conduct.[14] He was sentenced to 32 hours of community service and a $25 fine.[14] Because disorderly conduct is a violation of the law, rather than a misdemeanor or felony, Morelle's plea enabled him to avoid having a permanent criminal record as a result of the incident.[14]
U.S. House of Representatives
Elections
2018
After the death of Representative Louise Slaughter, Morelle announced his candidacy for New York's 25th congressional district; he won the Democratic Party's nomination on June 26, 2018.[15] On November 6, he ran in two elections: a special election for the last two months of Slaughter's 16th term, and a regular election for a full two-year term. He won both, defeating Republican nominee Jim Maxwell.[16]
2020
Morelle ran for reelection to a second full term, winning the Democratic primary against challenger and Brighton town councilwoman Robin Wilt.[17] He defeated the Republican nominee, businessman George Mitris,[18] in the general election.[19][20]
Tenure
Morelle was sworn in on November 13, 2018.
Committee assignments
Caucus memberships
Electoral history
New York's 25th congressional district special election, 2018

Party
Candidate
Votes
%
±%
Democratic
Joseph Morelle
141,290
58.29%
+2.10%
Republican
Jim Maxwell
101,085
41.71%
-2.10%
Total votes
242,375
100.0
N/A
Democratic hold
New York's 25th congressional district, 2018

Party
Candidate
Votes
%
Democratic
Joseph Morelle
147,979
54.8
Independence
Joseph Morelle
4,585
1.7
Working Families
Joseph Morelle
4,575
1.7
Women's Equality
Joseph Morelle
2,105
0.8
Total
Joseph Morelle
159,244
59.0
Republican
Jim Maxwell
91,342
33.8
Conservative
Jim Maxwell
17,781
6.6
Reform
Jim Maxwell
1,613
0.6
Total
Jim Maxwell
110,736
41.0
Total votes
269,980
100.0
Democratic hold
New York's 25th congressional district, 2020[19][20]

Party
Candidate
Votes
%
Democratic
Joseph Morelle
187,503
53.9
Working Families
Joseph Morelle
14,584
4.2
Independence
Joseph Morelle
4,309
1.2
Total
Joseph Morelle (incumbent)
206,396
59.3
Republican
George Mitris
115,940
33.4
Conservative
George Mitris
20,258
5.8
Total
George Mitris
136,198
39.2
Libertarian
Kevin Wilson
5,325
1.5
Silly Party
Charles Baldo (write in)
1
.00
Total votes
347,919
100.0
Democratic hold
Personal life
Morelle lives in Irondequoit with his wife, Mary Beth.[3] They have three children.[1]
References
External links
Issues
Committees
Rep. Joe Morelle currently serves as a member of the House Committee on Rules, the House Committee on Budget, the House Committee on Armed Services, and the House Committee on Education and Labor.
Legislation
Issues 
For generations, Americans have been promised that their hard work will be rewarded in life's later years; that decades of paying into the system will guarantee a secure and stable retirement with access to Social Security and Medicare. 
Every single day, 100 lives are lost due to gun violence. This adds up to over 30,000 lives each year. Thirty thousand children, neighbors, and friends taken because of a failure to enact common-sense legislation. 
It's no secret that the Rochester community faces alarmingly high rates of poverty—especially childhood poverty. In fact, more than 50% of children under 18 in the city of Rochester are impacted by poverty and are faced with a myriad of challenges and barriers that stand in the way of the reaching their full potential. 
Every child deserves a quality education – one that offers opportunities to learn the skills and tools necessary to succeed in today's world. 
​America has long prided itself as a land of hope and opportunity. A nation where anyone can be anything and a person is only limited by the limitations of their dreams. This opportunity has always been tied to the strength and availability of our academic system and institutions of higher learning. 
Serving in America's Armed Forces is one of the most courageous and selfless decisions citizens of this country can make. It is a decision we should never cease to honor and celebrate.  
We have made incredible strides as a country in the fight to support and empower our vibrant LGBTQ+ community. No matter who you love or how you identify, equality is a human right that must be extended to everyone who calls this nation home.
Under no circumstance should a family or individual have to forego meeting their most basic needs such as food, transportation, and housing just so that they can afford to fill a lifesaving prescription. However, this is the scenario that is playing out for far too many people across our nation. It is simply unacceptable.
There is no debate here: climate change is real and it's wreaking havoc all over the globe. Each day our country fails to act on climate change, we threaten the future of our children and grandchildren and the long-term vitality of our planet.  
I am proud and honored to represent a district with a rich history of fighting for women's equality. From Susan B. Anthony to Elizabeth Cady Stanton to Louise Slaughter, we have made incredible strides in the fight for women's rights – but there is so much more to be done.